Understanding Passive Optical Networks for your FTTH Deployment

In recent years, we've seen an increase in demand for the management of fiber to the home (FTTH) networks. Network operators around the world are working hard to implement best in class fiber solutions for their customers; yet, it can be a daunting task to understand all the elements that go into a successful FTTH/FTTX deployment.
To help you out, we've put together a series of articles explaining the importance of each element that goes into a successful FTTH deployment. This first article is a quick reference guide on the various types of passive optical networks (PON).
PON Network Configuration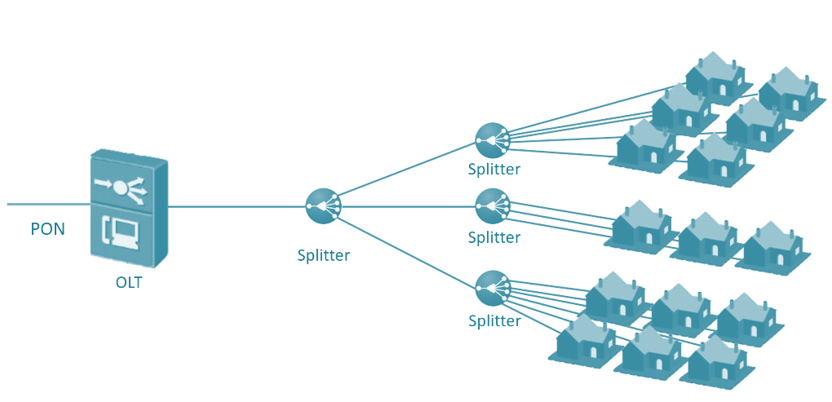 In every PON visualization, we start with the Optical Line Terminal (OLT). The OLT is the equipment that manages the connections to the customer Optical Network Terminal (ONT). Occasionally, you will also hear people speak about an Optical Network Unit, which is another name for the ONT.
We often see a variety of configurations when reviewing network designs with our customers. One of the most common is to have multiple splitters between the OLT and ONT. By doing this, it allows for greater distance between the end points.
The most commonly deployed solution we see in today's market is GPON
A splitter has 1 or 2 "in" ports and multiple "out" ports. Often the first splitter (seen from OLT) has 2 "in" ports for protection purposes.
The downstream transmission (from OLT to ONT/ONU) and upstream (from ONT to OLT) are different.
One OLT port sends the same signal to each ONT/ONU connected; however, each ONT will send specific information back to the OLT.
As each ONTs transmits different information, they each get an allocated timeslot to send their information. This is Time Division Multiplexing, TDM for short.
The OLT determines the distance and time delay of each subscriber. Then, software provides a way to allocate timeslots to upstream data for each user. Because it is shared, the upstream rate is lower than the maximum capacity.
The typical split of a single fiber is 1:32 or 1:64. That means each fiber can serve up to 32 or 64 subscribers. Split ratios up to 1:128 are possible in some systems.
Differences between different Passive Optical Networks
What is the difference between GPON, GEPON, APON, BPON and 10G-PON (XG-PON)?
What is GPON?
GPON stands for Gigabit Passive Optical Network and is currently most popular. The ITU-T standard is G.984. It delivers 2.488 Gbits/s downstream and 1.244 Gbits/s upstream.
GPON uses two different wavelengths on a single node fiber. For downstream traffic, the wavelength is 1490 nanometer (nm) and upstream traffic is 1310 nm. For TV distribution, a third wavelength exists. This wavelength is 1550 nm.
What are APON and BPON?
APON stands for ATM Passive Optical Network and is an older PON variant based on ATM, Asynchronous Transfer Mode.
BPON (broadband PON) is a result of further improvements to the original APON standard. This version, as well as the gradual falling out of favor of ATM as a protocol, led to the full, final version of ITU-T G.983.
Although the standard can accommodate higher rates, a typical APON/BPON provides 622 megabits per second (Mbit/s) (STM4/OC-12) of downstream bandwidth and 155 Mbit/s (STM1/OC-3) of upstream traffic.
What are EPON and GEPON?
Ethernet Passive Network (EPON) can also be referred to as Gigabit Ethernet Passive Network (GEPON). EPON/GEPON employs a single Layer 2 network that uses IP to carry data, voice and video.
EPON delivers 1-Gbit/s or 2.5Gbit/s symmetrical bandwidth and is typically more cost effective than GPON.
What is 10G-PON / XG-PON?
Next generation, ultra-fast capability for GPON providers is 10G-PON or XG-PON. This advancement in technology is designed to co-exist with previously installed equipment.
The asymmetric 10G-PON is specified as XG-PON1 and provides 10 Gbit/s downstream and 2.5 Gbit/s upstream.
More expensive burst-mode lasers on the ONTs would allow for symmetric standards 10G-PON, known as XG-PON2 and XGS-PON (ITU-TG.9807.1). With 10 Gbit/s upstream, it can deliver an upstream transmission speed we haven't seen before.
The framing is "GPON like" but uses different wavelengths from GPON. Using a WDM to separate them, GPON subscribers can be upgraded to 10G-PON incrementally, while GPON users continue on the original OLT.
The 10 Gigabit PON wavelengths (1577 nm down / 1270 nm up) differ from GPON and EPON (1490 nm down /1310 nm up), allowing it to coexist on the same fiber with either of the Gigabit PONs.
If you have questions about how to plan, build and operate a PON network, we're happy to schedule some time to talk. Feel free to connect with us on LinkedIn or send an email.